Our PC Services:
We specialize in repairing a full range of hardware, software, and network related issues. Our normal turn around time is 24 hours! We offer the following package deals:
Computer Tune-up – $29.99
Slow PC got you down? We will apply a 10-point tune-up to streamline your system and have it running better than "out of the box". **We scan for adware, spyware, malware and viruses, but will not remove them at this level.

Spyware, Malware, Adware, and virus removal only – $49.99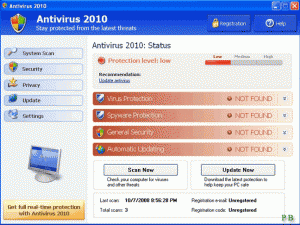 Is your internet slow? Pop-ups? New programs on your PC that you didn't install or that tell you you are infected (similar to picture at right)? Or have you experienced erratic behavior such as a black desktop, missing windows task bar, or unable to even login to your system? Don't worry. We keep current on the most recent threats to your computer and will eliminate any infections you have.  Also, we will teach you how to help prevent future intrusions by using our recommended
FREE TOOLS
!
The Works – $59.99
Combine our PC tune-up with the removal of any infections for optimum performance! If you surf the internet on a regular basis or download music and videos, then you most likely have spyware on your system.  Dont worry, we all pick up things along our travels.  If your system is sluggish, this package will create a very noticable difference about how your system works
Data Backup – $99.99
Transfer data from your computer to a storage device or medium, such as network-attached storage, CD's, DVD's, an internal or external hard drive or another computer.
Other Computer Services:
We charge a $40 diagnostic fee when troubleshooting your pc issue. The fee for the computer diagnostic does not include any hardware or software repairs, but the diagnostic fee will be applied toward any repairs you want us to complete on that computer. Pricing for the following services is by the hour with a half hour minimum (
$40/Hour
):
Network setup
Computer set-up
Computer training
Printer, scanner or other peripheral setup.
Comprehensive software and hardware resolution
Computer upgrades are free when you purchase the parts from us!